As a Komen fundraiser, we know you give your time, passion, and dedication to giving back to your community. We want to show you how much we appreciate your efforts and accomplishments in going the extra mile to make the biggest impact possible in the fight against breast cancer.
NEW FOR 2016


We are so excited to announce that this year, in addition to our Fundraising Rewards Program, we have a special gift for those who raise $150 or more! Our gift to you is a one-of-a-kind Susan G. Komen hat embroidered with the 2016 Komen Southern Nevada Race for the Cure slogan...I Live Here. I Race Here. I Save Lives Here. Why choose $150 as the goal ? Because a mammogram costs $150. So please know that when you proudly wear your hat on Race Day, you have shown your commitment to making a difference and have given the gift of life to someone in our community. Click here to view the gift.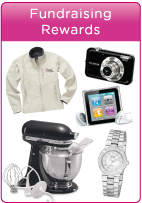 Fundraising Rewards Program
Good news! We will once again have our Fundraising Rewards Program where you can earn limited-edition items you can't get anywhere else! From electronics to work-out equipment, home goods to exclusive Komen merchandise, your efforts will be thoroughly rewarded! Click here for a complete list of all the great prizes and rewards you can earn - just for raising money to help end breast cancer forever! Pick out your favorite item, set a goal, and get started today!

How Does it Work?
Anyone who raises $250 or more will be eligible to earn a prize selected from the Fundraising Reward Website. The more you raise, the better the reward! See the fundraising guidelines below for more information. The fundraising deadline to qualify is midnight on Saturday, May 31, 2016. If you are eligible for a prize, you will receive a certificate (by email) in June to redeem your rewards. Once your certificate arrives, click on LOGIN above to begin the redemption process. Once completed, your prize will be sent to your home. It's so easy!
Fundraising Rewards Program Guidelines:
All Fundraising Rewards prize certificates will be emailed so providing a valid email address when registering is essential. Also, please be sure to include your phone number.
The Fundraising Rewards Program only applies to participants who register online.
Matching gifts will only count toward fundraising total if the matching donation is received by the affiliate no later than May 31st.
Fundraising totals do not include registration fees.
Make sure to review your online fundraising page often and report any errors or omissions to us at kbreuer@komennevada.org by the fundraising deadline of May 31, 2016.
In order for offline donations to count toward fundraising total, they must be in hand at the Komen Office no later than 5pm on Tuesday, May 31, 2016.
Donations made directly to a team will not be credited to an individual's personal fundraising page.
If you have any questions about our Fundraiser Rewards Program, please contact us via email at kbreuer@komennevada.org or by calling 702.822.2324.
Click here to start fundraising today!